The Mazda MX-5 RF is not a luxury car.
That doesn't mean it's inferior. On the contrary, it's an affordable toy with some trappings of luxury pared down to size, like a tasty slider on a silver platter. It's not the whole thing, but with this sample size, you still get a satisfying taste of something meaty.
If you can't afford the $110,300 Porsche 911 Targa, the German brand's legendary see-through hard-top, the $31,555 Mazda MX-5 RF is a logical alternative. It's the best of any in its reasonably priced set.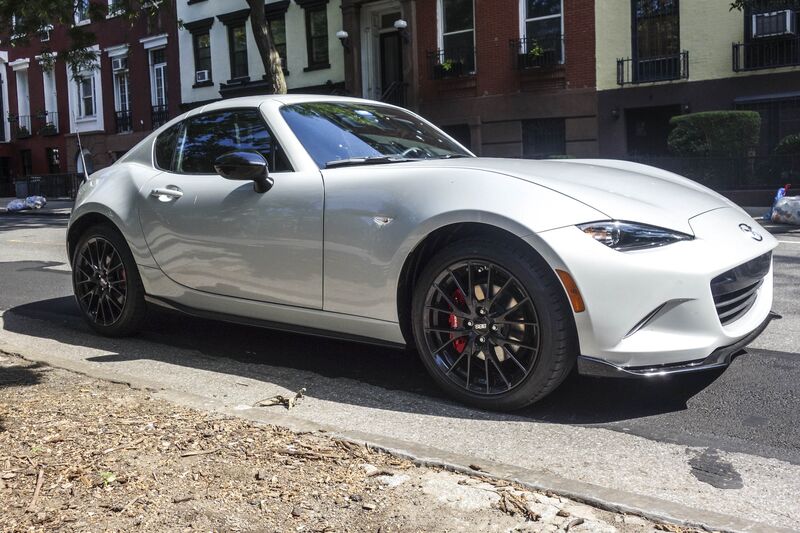 The Hardtop Miata You Wanted
Mazda introduced the fourth generation of its tiny two-door in 2014. The RF, or "retractable fastback" version, is new this year.
By retractable fastback, Mazda means that the hard top automatically folds back and down under the trunk, flanked by pillar-like beams on either side of the middle of the car. The idea was to make an open-top Miata that would hold the driving thrill of such a nimble, rough-and-ready car while giving it the cachet of a true hardtop. (By cachet, I mean a better, more quality look, a tighter fit to the car, and a quieter interior cabin.) With the top down, it looks kind of like those old T-bar Porsches from the 1970s, which is great.
The hardtop adds 113 pounds to the soft-top original version. What you gain in general practicality and a newly staunch demeanor—both from behind the wheel and from the overall appearance of the car—far outweigh the negligible loss of agility.

The Rare and Necessary Manual
The caveat here is that, despite the fact that Mazda now offers an automatic version of the MX-5 RF, you must buy the manual 6-speed in order to enjoy the full benefits of its graces. You wouldn't eat a mini-hamburger without any toppings, would you? It needs a little dressing to enhance the flavor.
In the same way, the MX-5 RF's four-cylinder, 155 hp engine needs the thrill of a stick shift to activate full enjoyment of the rear-wheel drive. The movement through the gears is crisp, short, and direct. An automatic transmission simply doesn't offer the same driving engagement, and how could it? It's a computer working the car for you. For many buyers, the MX-5 may be the first introduction to a manual transmission and to rear-wheel drive. It's worth doing them together on a vehicle so well-suited to zippy driving: They display their flavor most fully when they're mixed.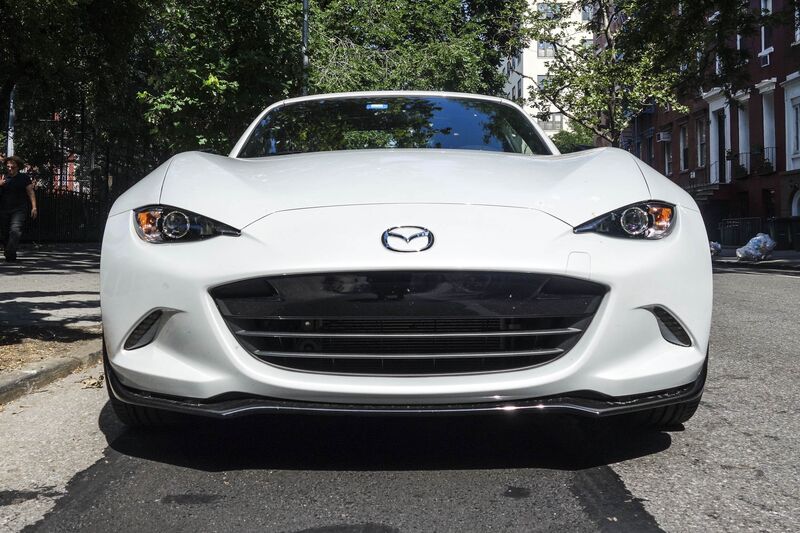 This is where Mazda separates itself from the pack ($25,495 Subaru BRZ; $26,255 Toyota 86; $21,600 MINI Hardtop). While those can drag (BRZ) and lurch a bit around corners (MINI), the MX-5 stays light on its feet and connected to the road, with seamless transitions through first, second, and third gear on the way to a 6.1-second 60 mph sprint time. It doesn't have a bracing sprint time, but driving it is fun. (That's not a word I use to describe many cars, which can be alternately thrilling, angry, fast, smooth, powerful, or any other of dozens of specific descriptors. This one, simply put, is fun.)
It's nowhere near as fast as the 4.5-second 911 Targa, but, then, that one costs nearly $80,000 more. Top speed on the MX-5 RF is 135 mph.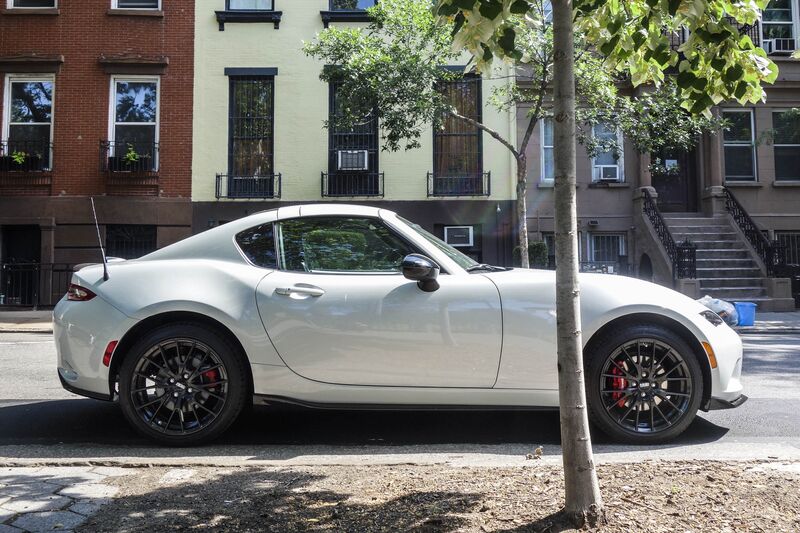 Here is where the MX-5 actually beats the 911 Targa: At 2,445 pounds compared with the 911's 3,461 pounds, its lithe body imparts such a feeling of ease when you drive it that you really don't think about driving it at all. (This also lends it superior efficiency, at 33 mpg on the highway, to the 911 as well.) It conjures the uncanny duality of being totally engaged (manual transmission, after all) but also freed from the physical constraints that so dearly cling to heavier, larger cars: I know I don't have to mention that parking such a small bauble is a joy. With the MX-5, all those spots that were almost big enough to fit your expensive sedan open up in blessed welcome.
Straightforward Performance
The MX-5 RF has some options, though their cost doesn't amount to much more than base MSRP, and many nice things—like Bluetooth, heated seats, and a 7-inch color touch-screen display—come free. Brembo front brakes, a rear lip spoiler, 17" forged dark alloy wheels, a rear bumper skirt, and door sill trim plates, add $5,000 or so to the final cost. The MX-5 is more expensive than its nearest competitors, but not by much.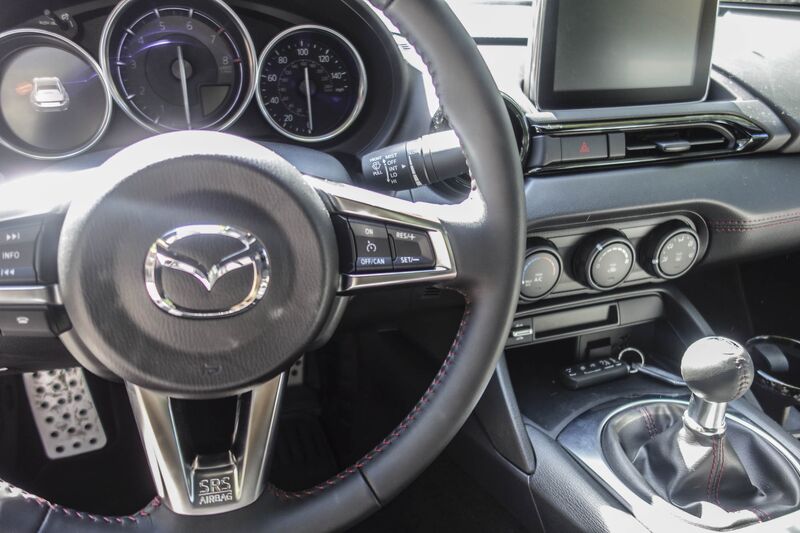 So, what's not to like with MX-5 RF? Nothing, really. But don't expect a roof that retracts when the car is traveling at anything more than the most excruciating snail's crawl (6 mph and under), and don't expect a throaty engine roar when you hit the gas. Don't expect multi-zone climate control, generous visibility, interior Alcantara finery, or even a back seat. (The trunk makes a great sandwich holder, though.)
Do expect to get attention for driving something cool. With angled LED headlights and a reserved front grille and fascia that accentuate its cute trim body and flying buttress-flanked sides, it communicates that its buyer has more discernment than those who own the standard-issue MX-5 Miata.
Call it the sports car in one perfect bite.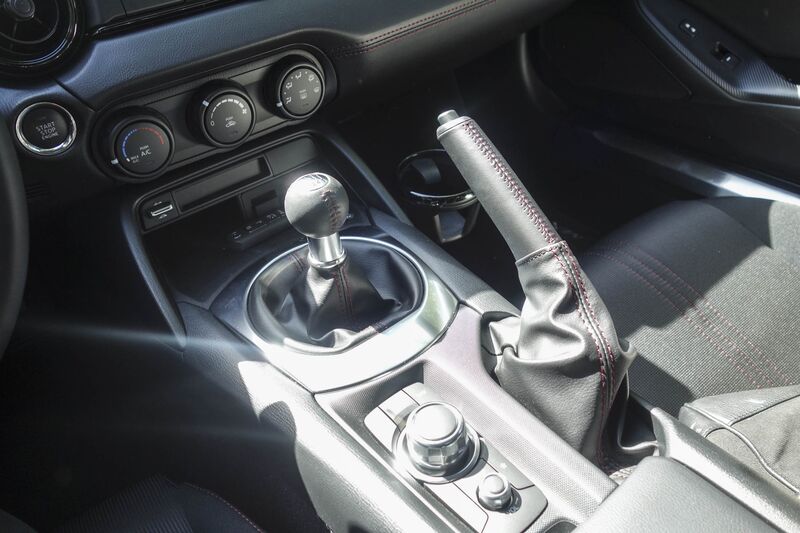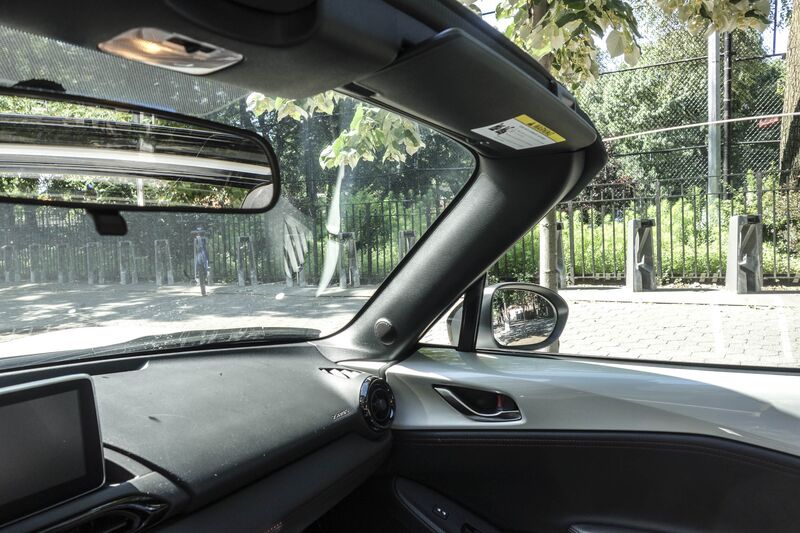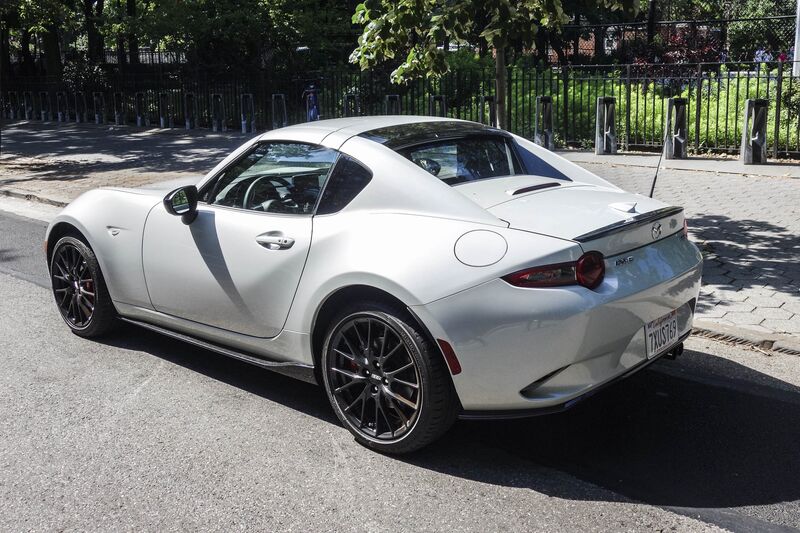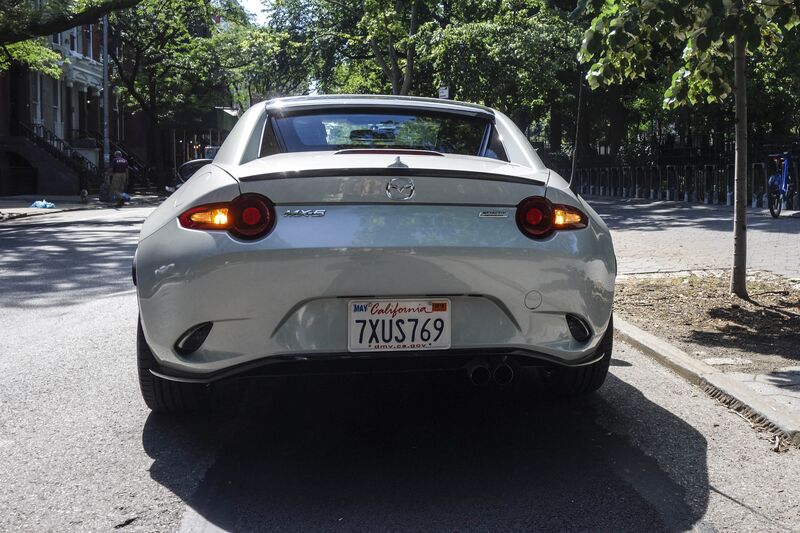 ---
Article culled from Bloomberg